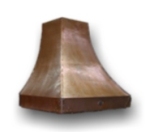 Hand Crafted Copper Range Hoods
To us, "Hand Crafted" does not mean expensive.
It means high quality, unique, and a custom fit.
Copper Range Hoods / Vent Hoods
Our custom copper hoods are Handmade by seasoned craftsmen here in Tyler, Texas. Whatever your kitchen design, we can create a custom copper vent hood with a finish that is perfect for you. Professionally designed with industrial grade components and stainless steel frames for strength and durability.
Stainless Steel Fabricators can build custom copper range hoods in any size or shape to match your kitchen.
Copper Finishes
You can blend a limitless range of copper finishes and textures for a fully customized look. And because our products are hand made, yours will be unique.

All of our copper range hood designs are also available in stainless steel or a combination of copper and stainless steel.
Installation
When its time to install your custom copper kitchen components, you or your contractor can do it or we can provide on-site installation.
Shipping of Copper Kitchen Components
We are equipped to professionally crate and ship the copper kitchen products we build so they arrive at your site in good condition.
Other Copper Kitchen Components
If you love copper in the kitchen, we can build just about anything you can imagine to compliment your range hood. Sinks, back splashes, custom copper accents, and even copper countertops. Be sure to check out our custom copper sinks.